Codex Washingtonianus 4th century AD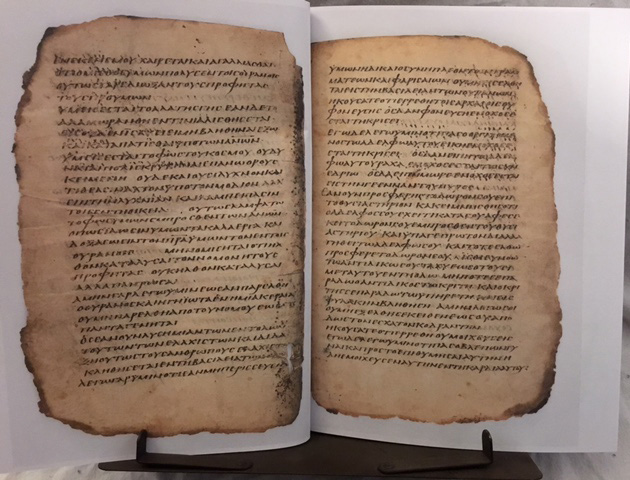 Codex Washingtonianus 4th century AD
Author: Two Scribes
Language: Greek
Pages: 378
Date: 4th or 5th century
History: "Codex Washingtonianus", also known as "the Freer Gospels," contains the four biblical gospels in the western order: Mathew, John, Luke, Mark. It's written in Greek on vellum and is a lacunose, meaning it suffers from gaps in the content, often caused by weathering, decay, and other damaging forces. The codex was seemingly copied from several different manuscripts, and is the work of two scribes. The codex is cited, in the critical apparatus of the Novem Testamentum Graece, as being a "consistently cited witness of the first order." The manuscript is dated 4th, or 5th AD century by the INTF (Institute for New Testament Research).
Description: The Codex Washingtonianus is a book of 187 leaves of 20.5-21 cm by 13-14.5 cm, and has painted wood covers consisting of 26 quires. The text is written in one column per page, 30 lines per page.
Reproduction Details: The hardcover books are made with two pieces of real wood on the inside. The leather is a 4 oz cowhide, from a small supplier in New York state. The Glue we use to attach the leather to the wood is made at our facility, and is a period correct wheat glue. Along the spine, we use a modern perfect binding, with modern glue, to make the binding last longer. We also add three layers of mull cloth to the outside of the perfect binding, drying in between each layer, a traditional way to make the binding stiff, strong, and resilient. The end result is a binding that will last generations to come.
Note: All of our facsimiles are made to order. Please allow 4-6 weeks for notification of shipment.