Gospel of Jesus's Wife, Greek Facsimile Circa 741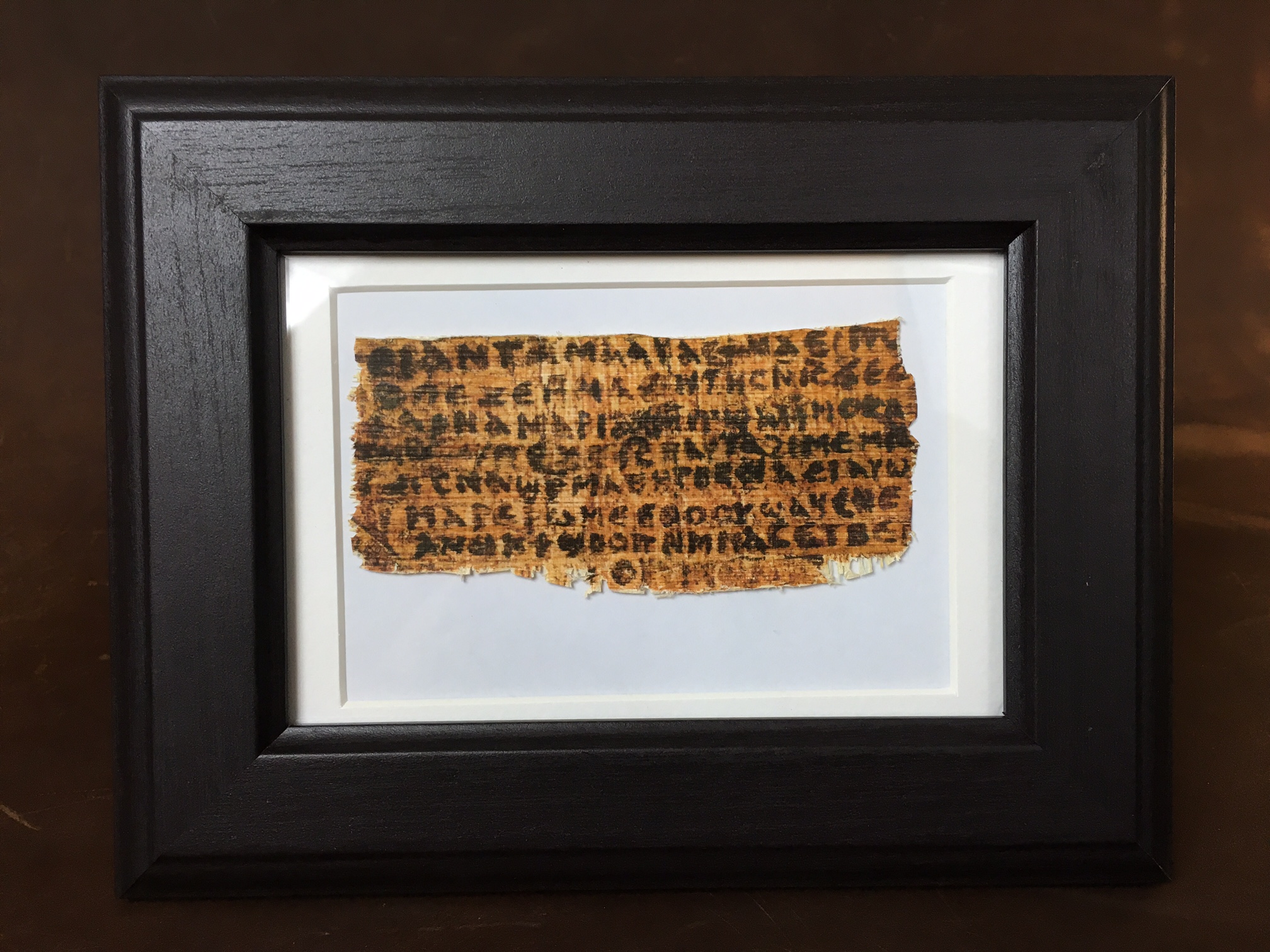 Gospel of Jesus's Wife, Greek Facsimile Circa 741
History: "The Gospel of Jesus' Wife" is a papyrus fragment, with Coptic text, that includes the words, "Jesus said to them, 'my wife...'". The text received widespread attention when first publicized in 2012 for the implication that some early Christians believed that Jesus was married. The fragment was presented by Professor Karen L. King, Hollis Professor of Divinity at Harvard Divinity School, at the International Congress of Coptic Studies in Rome, on September 18th, 2012. Professor King suggested that the papyrus contained a fourth-century Coptic translation of "a gospel probably written in Greek, in the second half of the second century."
The following is the translation of the fragmentary lines...
The Recto:
line 1: ... not [to] me. My mother gave me life ...
line 2: ... The disciples said to Jesus, ...
line 3: ... deny. Mary is (not?) worthy of it. ...
line 4: ... Jesus said to them, "My wife ...
line 5: ... she is able to be my disciple ...
line 6: ... Let wicked people swell up ...
line 7: ... As for me, I am with her in order to ...
line 8: ... an image ...
The Verso:
line 1: ... my moth[er] ...
line 2: ... three ...
line 3: ... ....
line 4: ... forth ...
lines 5 & 6: illegible ink traces
Info: Apmanuscripts.com is offering this as a facsimile printed on real Egyptian papyrus. It comes with a frame that measures 8 wide by 6.25 tall. Inches.
Disclaimer: We realize this particular piece is controversial in many ways, we are simply offering a facsimile for collectors to have. We make no claim, or opinion, on the original's authenticity or contents.
Note: All of our facsimiles are made to order. Please allow 4-6 weeks for notification of shipment.